Hinshaw Announces Publication of 2020 Diversity, Equity and Inclusion Report
Featuring a series of new DEI initiatives, including adoption of the Hinshaw DEI Matters Rule
February 13, 2020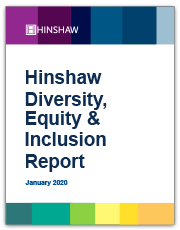 The national law firm of Hinshaw & Culbertson LLP is pleased to announce the publication of the 2020 edition of the firm's Diversity, Equity and Inclusion Report. The report includes transparent reporting of the gender, racial, ethnic and LGBTQ+ makeup of the firm. It also announces the adoption of a new diversity, equity and inclusion initiative modeled after the Diversity Lab's Mansfield Rule.
"At Hinshaw, we are committed to building bridges of understanding," said DL Morriss, Hinshaw's Diversity, Equity & Inclusion Partner. "We recognize that bridges need a solid foundation on each side, and those foundations depend on every individual supporting not only their own group, but also others outside their group. We hope this report will help facilitate conversations that foster positive business, economic, and social growth for our firm and the communities we serve."
Highlights of the firm's DEI initiatives in 2019 included a video interview with client Freddie Mac, as well as a panel discussion with clients MetLife and Wintrust at Hinshaw's All Attorney Meeting. The firm has also adopted the Hinshaw DEI Matters Rule—modeled after the Mansfield Rule—which mandates that women, ethnically diverse, and LGBTQ+ lawyers account for at least 30% of candidates considered for leadership and governance positions, senior associate and lateral partner openings, and capital and non-capital partnership promotions.
Download the full report (PDF)