Hinshaw Announces Publication of 2021 Diversity, Equity, and Inclusion Report
Report Provides a Transparent Account of DEI Metrics and Initiatives
March 10, 2021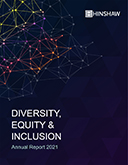 The national law firm of Hinshaw & Culbertson LLP is pleased to announce the publication of the 2021 edition of the firm's Diversity, Equity, and Inclusion Report. The report includes reporting on the gender, racial, ethnic, and LGBTQ+ makeup of the firm. It also includes an update on the Hinshaw DEI Matters Rule—modeled after the Mansfield Rule—along with news of the firm's adoption of the Hinshaw Black Attorneys Matter Referendum.
"At Hinshaw, we believe 2020 marked a permanent momentum swing towards the arc of justice that will expand opportunities for everyone," said DL Morriss, Hinshaw's Diversity, Equity & Inclusion Partner. "We are fully committed to make sure the growing diversity of our world and our commitment to proactive inclusion will not merely be a passing phase of the COVID-19 pandemic."
"We hope this report facilitates conversations about the importance of proactive inclusivity and systemic change," added Diversity Lead Lexy Ray. "We appreciate the support of all our allies and accomplices this past year in demonstrating how diversity, equity, and inclusion matters."
Highlights of the firm's DEI initiatives in 2020 included the adoption of a Hinshaw Black Attorneys Matter Referendum to further the interests of racial justice, the firm's ongoing involvement in the Leadership Council of Legal Diversity, and the formation of QuaranTeams, a program to help associates stay connected to each other in a time of remote work.
Download the full report (PDF)